Not long ago, Discord was seen as the place for gamers to chat. However, since the pandemic, Discord has experienced strong growth in servers covering a wide range of topics. This growth has led to the launch of many new and exciting servers, fostering quality discussions in various categories. This article focuses on a growing trend: Productivity.
We have compiled a list of some of the best Discord servers to join, aiming to provide you with the productivity boost you need to get through the workweek, help with project management and prioritization, and avoid dangerous procrastination.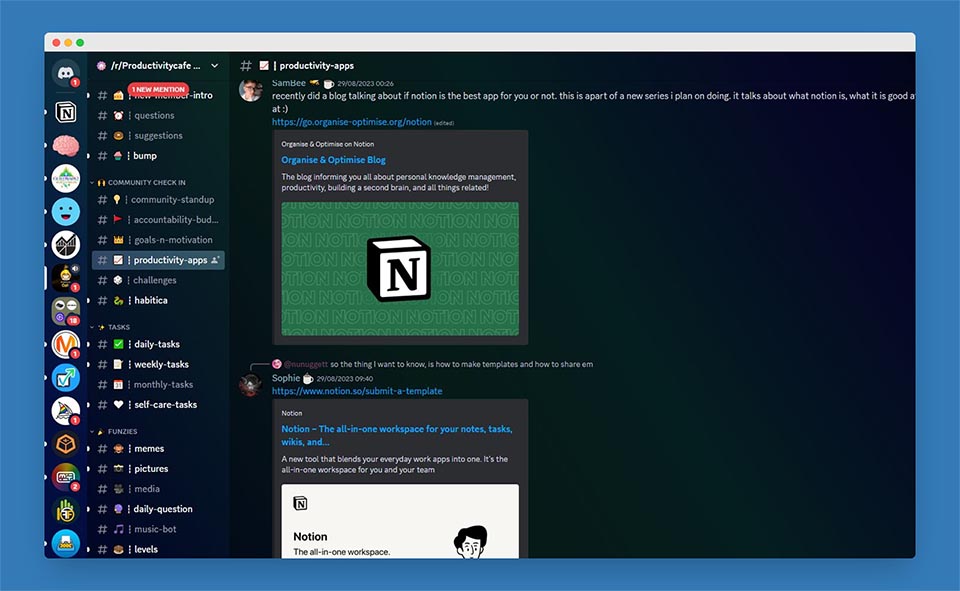 Tools for Thought:​
First up is Tools for Thought, a Discord server that focuses on the best tools available to professionals and how to make the most out of them to enhance productivity. While it previously focused mainly on Notion, the server has expanded to include discussions on a wide range of different tools. This server is a fantastic resource for discovering new tools that can transform you into a productivity ninja.
Link to Discord: https://discord.com/invite/hGNfbtRPS5
Productivity Cafe:​
Productivity Cafe is a growing Discord server with an active user base and a strong emphasis on community, self-improvement, accountability, and productivity. You can find an accountability partner, publicly track your daily and weekly to-dos, and participate in movie nights to connect with the community once your workday is complete. They describe themselves as a group of caffeine-fueled productivity wizards on a mission to conquer the dragons of distraction. Unleash your potential and check out this server.
Link to Discord: https://discord.gg/DXdK4WUPWe
/r/Productivity:​
As the server name suggests, this Discord originated from the popular and active Reddit community dedicated to all things productivity. While Reddit is excellent for longer discussions, their Discord server is a hive of live activity when it comes to discussing productivity. It offers channels dedicated to recommending and discussing the best apps, books, systems, websites, and project management tools, as well as channels focused on self-improvement and motivation. If productivity is your thing, joining this server is definitely worthwhile.
Link to Discord: https://discord.com/invite/productivity
Notion:​
Notion has become the all-in-one solution for many businesses and professionals, serving as an internal documentation platform, wiki, and even handling more advanced functions such as content calendar management, finances, and budgeting. Not surprisingly, Notion has its very own Discord server that focuses on making the most out of Notion, helping you become more productive. The server provides tips on commands, resources, and templates that can assist you in maximizing the potential of this amazing tool.
Link to Discord: https://discord.com/invite/notion
WhatPulse:​
Last but not least, we can't miss mentioning our very own Discord server for WhatPulse, which includes a dedicated channel for all things productivity. In this server, you can chat and learn about the tools used by our most productive WhatPulse users to help them make the most of their working week and improve their stats.
Link to Discord: https://discord.com/invite/FtddS6Fwve