Translations (Client v3.5)​
This is by far the biggest thing. The client can now support multiple languages. Select the language in the General Settings: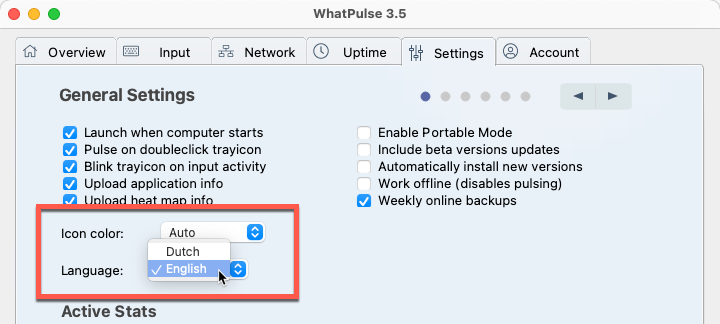 I am starting with Dutch and adding more languages soon. Here's also where I could use your help. If you would like to see the client in your native language for yourself and people that speak the same language — help us out!
I've open-sourced the language files and written documentation about how to contribute. You can find all information here: https://github.com/whatpulse/client-translations
Shout out to Richard Gráčik, who has already started on a Slovakian translation!
Support for Windows 11 and macOS 12 (Client v3.5)​
Minor change, but I wanted to highlight it. The client will now correctly recognize Windows 11 that came out a week ago. In anticipation of the release of macOS 12 (Monterey), the client also supports it when it comes out.
Dark & Light Mode Updates (Client v3.5)​
While the client does not have a dark mode yet, it handles dark and light themes a lot better now. Both on Windows and macOS:
Switching themes on Windows (left) and macOS (right)
The application icon has also had a few minor tweaks that will make sure it looks good on both light and dark mode:
Application icon on light (Windows, left) and dark (macOS, right) mode
Viewing & Exporting Data (Client v3.5)​
A few things around viewing and exporting data. On every page in the client where you have a time selection (heat maps, application history, etc.) — there's now the option to select all your data using the all button:
If you have a lot of history, it could take a couple of seconds to load. The spinner will tell you whether it's still loading or if it's done. :-)
And on popular demand, the Export Wizard can now group by the hour for input and application uptime. The resulting CSV file has your data split by the hour. Want a CSV with the number of keys of last week between 8:00 and 8:59? Done.
There were also a few Export menu's missing the Export Wizard option: that's been remedied.
Download all Data (Website)​
Adding on the data export features, there is now a button called Download All Your Data inside your Account Settings. When you click this button, all the data in your account is gathered and put into a zip file. Once that process is done, you will get an email with a link to the zip file.
Download all your data from the website
It can take a few minutes to process and send the email — contact us if it doesn't arrive in an hour.
Social Apps Update (Website)​
Since the launch of the Social Apps, there have been 100s of application profile submissions. It's been incredible to see applications get more information on the website and how people have been using it to find alternative apps or simply get more info about their apps.
One barrier for submitting was the requirement for a logo. I initially added the logo as a requirement at first to get the application profile complete at the first submission. But a lot of you have asked to remove it — so here we go! You can now submit application profile improvements without having to look for a logo.
By the way — the free sticker promotion is still active. :-)
Other Stuff​
Client v3.4 fixed the sharing of keyboard and mouse heat maps

Client v3.5 automatically starts online back-ups within 5 seconds, instead of waiting for a manual start

Client v3.5 fixed opening the browser for the login process. This only happened for a handful of people.