New Weekly Update Email​
It's my favorite email of the week, telling me how I did in the last week. Building on additional data the software is collecting like application stats and uptime details, I'm excited to reveal the new weekly update: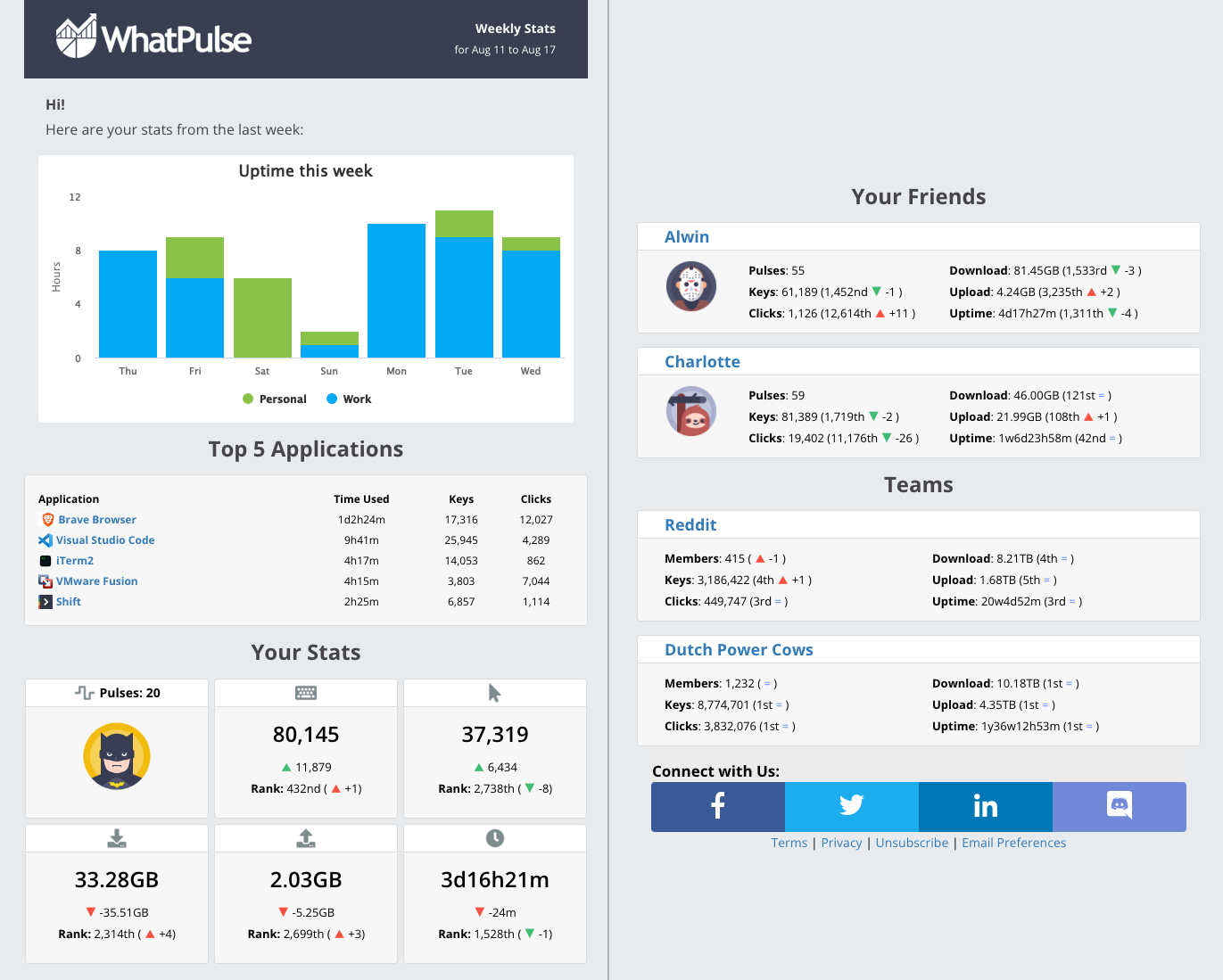 The first thing you'll notice is the chart that shows how many hours per day you've spent behind your computer. Cool, right? The second thing is my favorite; the top five applications you've used this week. Awesome. It also helps that the new design looks fantastic. 😄
WhatPulse 4.1 fuels this data, so make sure you've upgraded. Without it, you'll miss the chart and application list. Per-application statistics is also a Premium feature, make sure you subscribe.
Coming to your inbox next Thursday!
New Security Improvements​
We've always focused on security at WhatPulse, from the granularity in selecting which statistics you're tracking, the privacy options on our website, and the backend security. With this update we're introducing two additional security controls for your accounts.
Two-Factor Authentication​
First, an additional two-factor authentication method; text messages. We've supported two-factor authentication with an app (i.e., 1Password, or Google Authenticator) for a while, but not everyone has one of those apps.
With text message two-factor authentication, you first log in with your email and password. Then a six-digit code is sent to your phone, with which you can log fully into the website.
Set up two-factor authentication here, with either an authenticator app or the new text messages. You can find a step-by-step guide here.
Confirmations of Account Changes​
Significant account changes now require confirmation. When you change your accounts username or email address an email will be sent to your current email address requesting you confirm these changes.
New Help Center​
As our products are growing, being able to find the right documentation is essential. To make that easier, we've overhauled the Help Center into a brand new site.
The search bar is your friend when you're looking for something specific. If you're new to WhatPulse, a Getting Started series explains the basics. Check it out here: https://help.whatpulse.org
We'll start integrating the new Help Center into our website and software client soon, giving you contextual help where it's needed.