New Design​
Looks aren't everything, but after years of the same, the client is now sporting a fresh and modern design: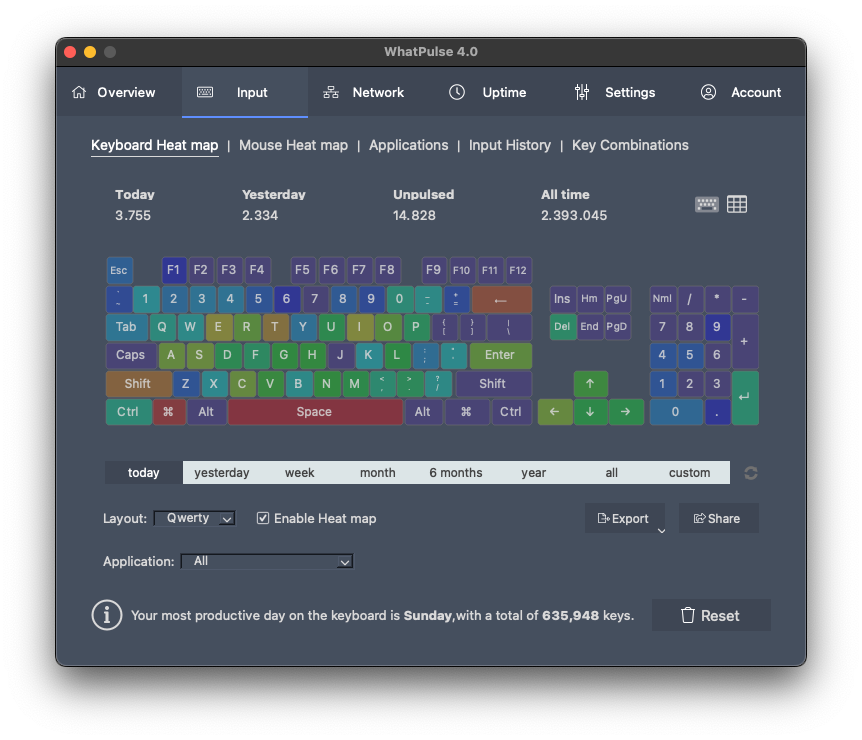 Left: Keyboard heat map with dark mode — Right: Mouse heat map with light mode
Here's a quick summary of the design changes:
Dark Mode! Choose between Dark and Light Mode in the settings.

Replaced the carousel for sub-pages with tabs. This exposes all sub-pages at a glance, so you can easily see what's available.

Better indicate when specific stats are disabled

A new installer & update system that works the same on Windows and macOS. (Linux tbd) – There's a new program added to the WhatPulse installation directory called WhatPulseMaintenanceTool. We'll use it to install, update, and uninstall the client. – Update notifications now only happen within the client. You'll see a banner at the top of the window saying there's an update available.
The new update alert
We love how the new design and dark mode turned out, and we hope you do too! 💖
Application Uptime History​
Ever wonder how long you've been in an application this week, or month? So did we! In version 3.6 and below, the application uptime was accumulative and you could only see uptime for specific dates by exporting it to CSV. We've now added the time selection on the application uptime, so you can select the most used date ranges, or even select a custom date range to see how long you've used an application.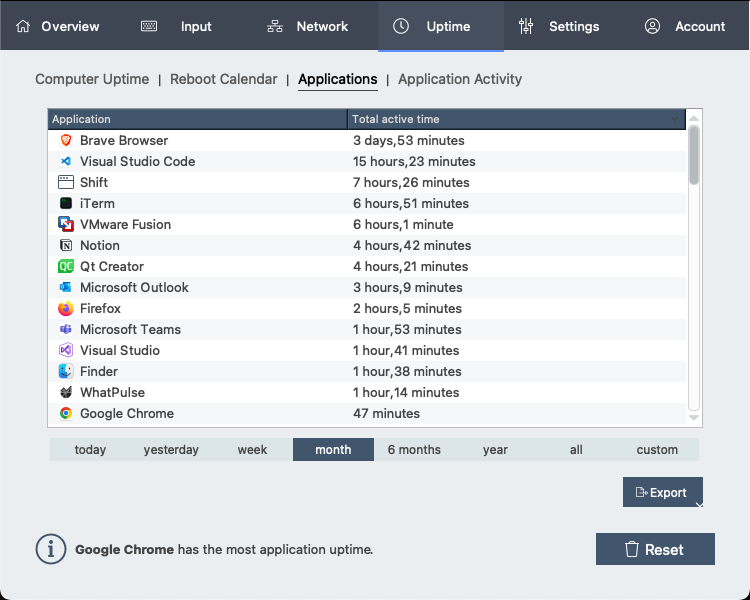 Application Uptime History set on the last month view
Network Improvements​
Many of you have a great internet connection with high speeds. During high download or upload traffic, the 3.x versions could be inaccurate. We've improved the integration with npcap on Windows and the native pcap on macOS, to optimize for higher speeds.
The result: when downloading with 200Mb/s or more, the accuracy has gone from ~80% with 3.x, to ~98% accuracy with 4.0. 🚀
Automatic Bug Reports and Usage Data​
Starting WhatPulse version 4.0, the client can automatically collect and send us anonymized data about bugs and usage. This information is important to us for improving your experience and helps us prioritize features and bug fixes. Data collection is controlled by the setting called Send bug and usage reports. If you'd like to learn more about what's collected, how it's sent to us, and how we use it, please check out this Help Center article.
Our Privacy Policy has been updated to mention this data, as well.
New Settings​
There are a few new settings available, let's walk through them:
Back by popular demand, a setting called Pause notifications. This lets you mute all notifications coming from the client (i.e., successful pulse).

The 'Open Window on Startup' setting is now also available on the General Settings tab, instead of just the Overview tab.

There's also a select box for the client theme. This is where you can choose between the light or dark theme.
New Languages​
We've added support for Arabic, Bulgarian, Spanish, and Polish. This makes a total of 12 available languages. These updates are driven by our awesome community; thank you to Ammar, Rado, Inktest, and Krzysiek!
Is your language not available and do you want to help translate the client? Find out how here.
Bug & Stability Fixes​
A bunch! Here are all of them, just in case you've run into one of these.
GeoIP is a database that links network traffic to certain countries. WhatPulse 3.x had a few issues with handling GeoIP, which could cause the client to crash instantly after starting. The GeoIP database itself was corrupted in that cause, which the client didn't handle well. Now it does.

Fixed a client crash when your Windows or macOS username has non-Unicode characters in it. (i.e. РПК)

Fixed high CPU and unresponsiveness, which sometimes happened on Windows after waking up after sleep when networking is enabled.

Fixed fact statistics sometimes being displayed as "%VAR%"

Fixed the %InstantKeyRate% and %InstantClickRate% Geek Window variables. These were showing 2x the actual value.

Improved the way applications are uploaded to the website so that they show up faster

An online database restore now downloads to your system's temp directory. This fixes restores when using portable mode.
Conclusion​
We're really excited about WhatPulse 4.0 and hope you like it as much as we do. Upgrade using the built-in updater, or download 4.0 from here.
Thank you to everyone that participated in the beta, 4.0 is the most extensively tested and stable release yet because of you. 💪